South's Greatest Chefs 2019
The Greatest Collection of Chefs in the South Gathered to Determine Who Was Top Dog. When the Votes Were Counted, William Dean of Alligator Soul Took Home First Prize for Online and Event Voting.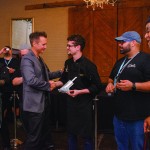 This year's Greatest Chefs Contest proved to be competitive. With 46 entries and more than 30,000 votes, it's clear that residents of the Hostess City have  a passion for their chefs. Here are the Top Five winners as voted from the jam-packed culinary event of the year, DineSouth 2019:
5. Tyler Slade of 10 Market, A Chef's Kitchen
4. Christian Santiago of Òrale Tacos +
3. Roberto Leoci of Honey Pepper Farms
2. Joe Randall of Good Times Jazz Bar and Restaurant
1. William Deane of Alligator Soul
Creative Director and Publisher of South Magazine Michael Brooks proudly hands off the award of South's Greatest Chef to William Deane of Alligator Soul at DineSouth 2019.