The Top 4 Places to Travel with Pets in the Coastal South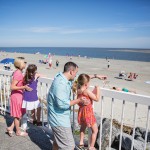 It used to be commonplace to leave an important member of the family behind while the rest traveled on vacation.
My how times have changed. The lodging industry has taken notice, upping the ante to lure pets and the owners who worship them. Here are a few of our favorite places where Fido or FeFe can come along on your R&R.
1. Open Gates Bed & Breakfast
Open Gates Bed & Breakfast in Darien, Georgia, is the definition of gracious hospitality. The owners place chocolates from the chocolate factory across the street on guests' beds and Open Gates' crepes won BedAndBreakfast.com's Best Breakfast award—but their warm welcome extends beyond the culinary kind. The Open Gates welcomes pets in their Garden Room adjacent to the carriage house. This four-legged friendly lodging option has a private entrance and sitting porch, along with a private bath, king and twin beds for spreading out. Two blocks from Open Gates' wrap-around porches through a quiet neighborhood, the waterfront beckons. At night guests can meander back from restaurants and bars just in time for a goodnight stroll. opengatesbnb.com
2. Anchorage 1770
Anchorage 1770 owners and staff understand and appreciate the bond between dogs and their humans, honoring it with two dedicated dog-friendly rooms on their Beaufort, South Carolina, property. As if Anchorage 1770 couldn't be any more charming, canine guests are invited to be part of their Sea Dogs Program, named for Caribbean pirates who frequented early Beaufort. A 1902 article called the mansion the "finest and most elegant in town" and it still retains that title. Known as the William Elliott House for its first 100 years, it became Naval officer Rear Admiral Lester Beardslee's home in the late 1800s. Sumptuous digs aside, film buffs flock to Beaufort for on-location tours from "Forest Gump", "The Big Chill" and "The Great Santini" among other movies shot in the area. Beaufort also lures anglers for its quick access to offshore fishing. Recently, Hunting Island State Park reopened after a long recovery from Hurricane Matthew. anchorage1770.com
3. Sea Island
Sea Island offers a pet menu filled with "delicious, healthy treats" and that's a good thing—this is a place for outdoor adventurers and their dogs who can't wait to explore Sea Island's miles of beaches and neighboring marshlands. seaisland.com
4. Aloft Hotels
No one appreciates furry friends like the folks in the Aloft hotel chain. Aloft Jacksonville takes the blue ribbon for going above and beyond. Management staff members are known for printing a photo of your pet before you arrive to attach to customized goodie bags brimming with biscuits and a stuffed toy. alofthotelshub.com
To read more about the greatest places to eat, stay, play and shop in the South, subscribe now or pick up the June/July issue of South magazine.