Spring Break 2021: Myrtle Beach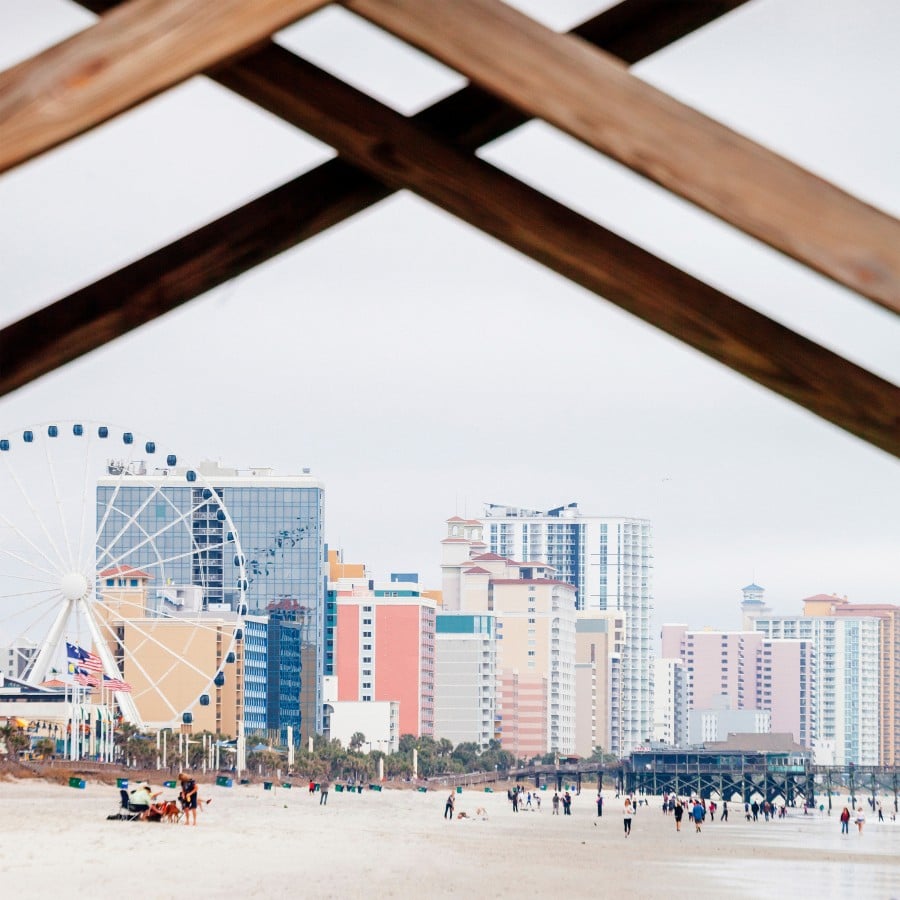 Spring is finally in the air again! The coastal South is home to many of the nation's greatest spring break destinations—and is welcoming travelers after a year-long winter. Visitors are sure to find that same Southern hospitality rings true as ever, from Myrtle Beach down to Daytona.
Written by: Lauren Flemming • Photography: D. Paul Graham and Miranda Osborn
Myrtle Beach, South Carolina
As the second fastest-growing metropolitan area in the United States, accompanied by a 60-mile stretch of pristine coastline, Myrtle Beach, South Carolina has something for everyone. Don't expect tropical conditions, as temperatures hover in the low seventies throughout March and April; however, do expect to never be bored! Myrtle Beach is known as the "mini golf capital of the world" and also boasts over 100 full-size courses, too. Attractions like Ripley's Aquarium, Broadway Grand Prix and several shopping outlets offer a break from the sand. Visitmyrtlebeach.com
North Beach Resort & Villas
North Beach Resort & Villas offer a variety of accommodations with one thing in common: luxury across the board. High-end villas and bungalows supplement the condo towers and seven-bedroom penthouse—known as the Bridge—overlooking the Atlantic ocean. northbeachrentals.com
---
Marriott Myrtle Beach Resort & Spa at Grande Dunes
Situated within the prestigious Grande Dunes neighborhood, the Marriott Myrtle Beach Resort & Spa boasts access to nearby championship golf courses and breathtaking oceanfront views. The Hibiscus Spa and health club are the perfect complements to any Myrtle Beach excursion. marriott.com
---
Marina Inn at Grande Dunes
Experience the full grandeur of the Grande Dunes at the Marina Inn, overlooking one of the finest full-service marinas on the east coast.Tucked away from the hustle and bustle of the surrounding area, the Marina Inn is a harbor of luxury ideal for all visitors. marinainnatgrandedunes.com
Broadway at the Beach
Year in and year out, Broadway at the Beach is the most visited destination in Myrtle Beach. This shopping, dining and entertainment hub is ideal for guests of all ages. Can't-miss attractions include the Broadway Grand Prix and Topgolf. broadwayatthebeach.com
---
Ripley's Aquarium
Located within the Broadway at the Beach hub, Ripley's Aquarium is another visitor favorite that has stood the test of time. Walk through a marine tunnel, play with penguins and even dive with sharks! ripleyaquariums.com
---
Myrtle Beach Family Golf
As the miniature golf capital of the world, Myrtle Beach offers unmatched courses. Challenge your friends or entertain the whole family. Courses like Captain Hook's Adventure and Jurassic Golf do not disappoint! myrtlebeachfamilygolf.com
42nd Street Bar and Grille
Known for their uncompromising, exceptional service and upscale, seafood-heavy menu, 42nd Street Bar and Grille is a Travelor's Choice restaurant and consistently gains public five-star reviews, making it the ideal choice for an occasion meal. The inviting robin-egg blue storefront is impossible to miss! 42ndstreetbarandgrill.com
---
Jimmy Buffet's Margaritaville
It's five o'clock somewhere—come to think of it, it's always five o'clock at Margaritaville! From the permanently docked boat, Euphoria, to the Stranded on Sandbar located in a Lighthouse, Margaritaville has a boat load of character. Come for the margaritas, stay for the state of mind. margaritavillemyrtlebeach.com
---
The Sea Captain's House
A hospitality tradition that dates back to 1930, The Sea Captain's House has been harboring travelers for nearly a century. Another public favorite, this waterfront establishment serves fresh seafood for breakfast, lunch and dinner. seacaptains.com
The Market Common
Set in a beautifully designed village, the Market Common offers some of the nation's most celebrated names in retail to charming one-of-a-kind boutiques. Stroll along tree lined avenues, dine at one of the 11 restaurants, or take in a movie at the most comfortable theater in Myrtle Beach. marketcommonmb.com
---
Tsunami Surf Shop
Any respectable beach town needs a go-to surf shop. Tsunami Surf Shop has nine locations throughout Myrtle Beach and has every beach-related need covered, with essentials from boogie boards to sunscreen. Find top brands like Billabong, Ray-Ban, Oakley, Sperry Topsider, The North Face and all the rest of the best. tsunamisurfshops.com
---
Tanger Outlets
Shoppers know to expect all their favorite brands and all the best deals when visiting Tanger Outlets. Tanger Outlets at Myrtle Beach are no exception; however, this shopping complex offers guests a chance to find discounts and score the deal of the year, even during spring break. tangeroutlet.com/myrtlebeach17
---
To read this story in its entirety, subscribe now to the print edition for the full article or get instant access to our interactive digital edition.