Redefining the Modern Icon
From professional climber, to law enforcement, Lee Vartanian's past experience came in handy when he launched the company that would elevate the quality and style of the K-9 gear industry.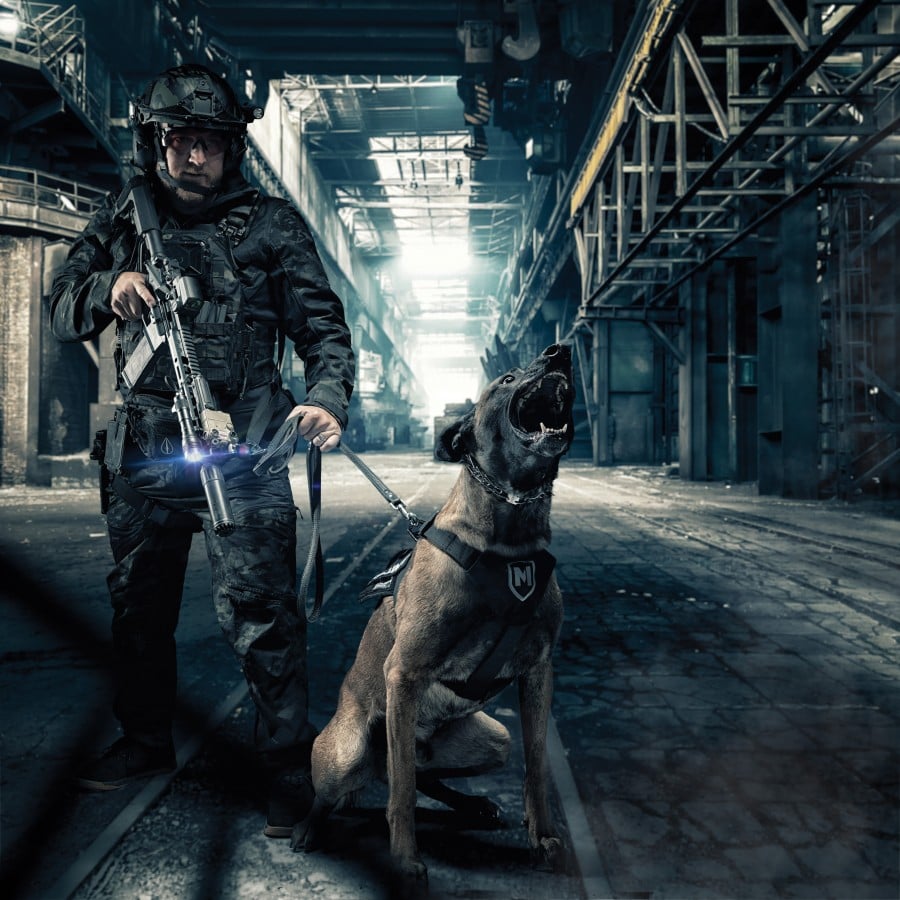 "The market has been flooded with products that look tactical. But we aren't designing gear for that – we are designing for working dogs. But even if your pooch isn't out there saving lives, Modern Icon gear is simply built to last. We hear from so many folks where their dog went through three different collars before ours."

– Lee Vartanian
Dogs who do more need more. For those select canines who rush toward danger, save lives and protect their people, Modern Icon has gear that stands up to anything. Anyone who owns a dog knows they can be tough on their gear. If they're not chewing on their leash, they're snapping the clasps on their collars before bolting off to mark their territory all over creation. For a pet owner, it can be a nuisance. But for those handlers working in life-or-death conditions, it can mean far worse.
"I was a police officer for five years in Greenville, South Carolina, and one day I was going into roll call and saw one of the leads that our canine officer was using," said Modern Icon founder Lee Vartanian. "I'm thinking, 'I don't want to be next to that dog on the street with that crappy lead being the only thing between it and biting everything around it.'"
A nationally ranked professional climber with an eye for design, Vartanian had already been using the sewing skills passed down from his grandmother to upgrade and modify his outdoor gear. A better leash was a snap.
"I went to REI and bought some military-spec black webbing and a marine-grade brass snap," he said. Beyond simply being tougher than the average leash, this first model incorporated what Vartanian calls a "pace methodology" derived from his time spent teaching special ops rappelling and vertical access. "Pace stands for primary, alternate, contingency, emergency. If a snap breaks, there's a loop for a carabiner. All of our equipment has to stand up to that," he said. "You could rappel out of a window with our leads."
That first lead set off a flurry of interest among dog handlers within Vartanian's department and beyond. With that word of mouth came suggestions from all over for different equipment. "I would design based on their feedback and my own understanding to make some unique products that are used by departments all over the world," he said. "Everything's been out of necessity. If something doesn't exist, we're going to make it."
Speaking of necessity, the volume of orders coming in soon put Vartanian at a crossroads. He'd been essentially a one-man operation working out of his basement when he decided he just couldn't keep up with demand. "I got to a point where I had to decide am I of better use to the world as one officer on the street or as someone making gear for every K-9 on the planet?"
"I got to a point where I had to decide am I of better use to the world as one officer on the street or as someone making gear for every K-9 on the planet?"
– Modern Icon founder, Lee Vartanian
Check out the full line of collars and leads at modernicon.us.
---
To read this story in its entirety, subscribe now to the print edition for the full article or get instant access to our interactive digital edition.