"Monday 5 Things" with D. Paul Graham
.....Moments.....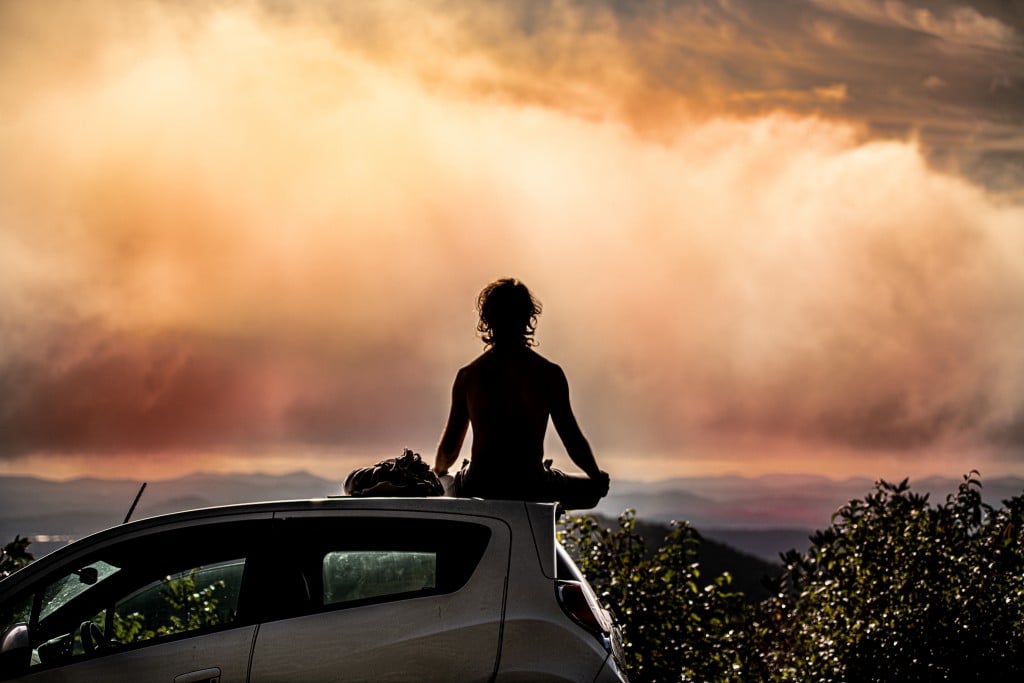 Monday 5 Things…..Moments…..
I had the privilege to be on a shoot last week in Asheville. Cooler temperatures were a welcome respite from Savannah humidity. Yesterday, rather than rushing home, I turned what should have been a 5-hour drive into a 10-hour drive by slowly driving across the Blue Ridge Parkway and then taking backroads all the way back to Savannah. Each stop on the way up to the peak of 6,000 feet elicited my wide-eyed wonder, literal gasps, and unconcealed tears at the magnificent vistas that were slowly unveiled by the sun. Along the way, I met some beautiful people who contributed to the day. A couple who had been married the day before and wanted to start the first morning of their marriage holding hands and praying in the mountains, thanking God for each other as the sun rose. A man who was meditating in a yoga pose on the roof of his car. A mother and daughter who were taking their last trip together before mom's Alzheimer's took her memory. A solitary man away at the far end of the overview, who seemed to have the weight of the world on his shoulders, sipping from a bottle of alcohol as he stared out at the mountains.  A large group of historic motorcycle enthusiasts who gathered from all over the country for a one-week drive, ending on the Blueridge. Bird watchers with cameras and field-glasses who taught me more than I needed to know about Carolina Wren's and Dark-Eyed Junco's. Various kids who would run to the edge of the overlook squealing with delight as mom and dad, caught unexpected, yelled for them to be careful. And some college kids who were smoking the strangest of cigarettes. This morning's M5T celebrates moments.
1. Moments in Time.
Those moments when you opt to change your plans, purposefully slowing down to focus on where you are, who you are with, and to take in all the beauty that is around you that can only be seen and appreciated by stopping and taking time.
2. Moments of Love.
Those moments of understanding what it means to finally love who you are, appreciating those who you love in life, and being thankful for the gift of others who love you for who you are.
3. Moments of Dreams.
Those moments of uncompromising dreams that you have held onto, those that have become reality, those that are in process, and those that have been dashed but all that you can claim as our own.
4. Moments of Thought.
Those moments when you process thoughts, opportunities, and issues affecting your life right now; choosing to think for yourself; going against the incessant demands of media and others who try to dictate what you should think and how you should live.
5. Moments of Persistence.
Those moments of persistence with your decisions, to making a plan come together when few understand your motives, your drive, your belief in yourself, and your commitment to seeing something through to a finish.
Here's to a week of recognizing, defining and creating moments that add to, change, and direct your life.
© 2020 D. Paul Graham, all rights reserved.
D. Paul Graham is passionate about people, culture, photography and business. He has embraced his wanderlust with his travels around the globe and is at peace with his need for spirited drives in all things automotive.
You can find M5T each Monday here on www.southmag.com and by friending D. Paul Graham on Facebook. Paul is also a contributing photographer to South Magazine. His photographic work can be found on Instagram @dpgraham and at www.imageGRAHAM.com . Your feedback is always welcome. Email Paul at dpg@imagegraham.com