Make the Holidays Bright for Your Pets with Figo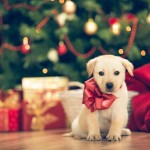 The holidays are here but don't forget about Spot! The holidays are an exciting time of the year but they can be flat out dangerous for our furry kids. Figo Pet Insurance is sharing ways to protect and care for your pet during the hectic hustle and bustle of the holidays. Keep your furry friends happy and healthy with these safety and gift tips from Figo Pet Insurance.
This year, Figo Pet Insurance is helping owners give their beloved pets the holiday experience they deserve with affordable health plans and a host of helpful tips.
Their innovative cloud-based platform and convenient app make it easy for owners to manage their pets' medical needs wherever they choose to celebrate.
"Holiday traveling is stressful for both people and their furry counterparts," said Figo CEO Rusty Sproat. "We designed our app—the Figo Pet Cloud–to be an indispensable resource when on the road."
The Figo Pet Cloud keeps all of their medical records and history at the ready. Users can find local vets in seconds, look up the closest dog parks, and search for pet-friendly hotels and daycares.
"In addition to all the resources in our app, we wanted to share a few other helpful things we do to keep our pets safe and happy when the holiday craziness gets into full swing," said Sproat.
Food
There are so many new smells and new things to taste that many pets let their stomachs get them into trouble.
Tip: To keep them healthy and away from the ham, get them a special animal-friendly treat they can gnaw on when everyone else sits down to dinner.
Holiday Décor
From string lights and glass ornaments to poinsettia plants and holly, those favorite holiday decorations are easy on the eyes, but tempting and potentially dangerous for pets.
Tip: Consider going with a faux tree, plastic ornaments, and skip the shiny tinsel. New toys that make them think or work to get a reward are also great distractions and gift ideas.
Guests
With lots of extra guests in the house, it's easy for pets to get overwhelmed.
Tip: Make sure they have a space they can escape to when it gets to be too much. Also be sure to keep a close eye on overzealous kiddos and ask guests to store their meds up high and secure.
About
Born out of 1871, the Chicago based entrepreneurial hub for digital startups, Figo is the first lifestyle and technology brand to meet the demands of the 21st century pet owner. Their innovative insurance system melds cutting edge cloud technology with affordable coverage in a handy new app. They've been featured in Crain's Chicago Business, Bloomberg, the Chicago Tribune, and on NBC. They also earned the SMA Innovation in Action Award in 2016.
Whether they walk on two legs or four, Figo believes the holidays are a time to sit back and relax with the one's you love.
For more information and tips from Figo Pet insurance, visit their website here and explore!