District Live at PRD Announces Live Performances Featuring GRAMMY Nominee Sophie B. Hawkins, Early James, The Talbott Brothers, Adam Ezra Group and More
District Live, a state-of-the-art live music venue at Plant Riverside District recently added a number of award-winning artists to the already impressive Spring/Summer 2023 line-up.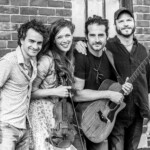 District Live, a state-of-the-art live music venue at Plant Riverside District recently added a number of award-winning artists to the already impressive Spring/Summer 2023 line-up.
"As Savannah's Entertainment District, we always look forward to welcoming top national and regional artists to District Live," said Scotty Henley, Director of Entertainment at JW Marriott Savannah Plant Riverside District. "This summer, there will be no shortage of live music with GRAMMY nominee Sophie B. Hawkins and talented artists like Early James, The Talbott Brothers and the Adam Ezra Group taking the stage at District Live."
District Live's Spring/Summer performance schedule is as follows:
SURF CURSE
Saturday, May 6 — 8 p.m.
$25 in advance | $30 day of show
Originally formed as a duo in Reno, Nev., Nick Rattigan and Jacob Rubeck moved to California, where Surf Curse's multifaceted sound infused with indie, punk, pop and psych rock influences fit perfectly into the Southern California punk scene. The band's 2013 single "Freaks" found new life on TikTok in 2020 and has since earned over 650 million worldwide streams and Recording Industry Association of America (RIAA) platinum certification. The band has performed at Coachella and on top stages around the world. Presented in conjunction with Live Nation.
PRINCESS GOES
Sunday, May 14 — 8 p.m.
$30 in advance | $35 day of show
Princess Goes is a trio comprised of vocalist, lyricist, musician and Golden Globe and Screen Actors Guild Award-winning actor Michael C. Hall (Dexter, Six Feet Under, Hedwig and the Angry Inch), keyboardist Matt Katz-Bohen (Blondie) and drummer
Peter Yanowitz (The Wallflowers, Morningwood). A theatrical sensibility is part of the trio's DNA, especially in live shows, since the band members met on Broadway during the production of Hedwig and the Angry Inch. Princess Goes offers a stripped-down synthesizer-and-drum attack and is informed by a wide range of influences, from the glam, experimental, ambient music of David Bowie and Giorgio Moroder's '70s disco productions for Donna Summer to '80s new wave dance music and contemporary electronic dance acts like Justice. Presented in conjunction with Live Nation.
SOPHIE B. HAWKINS (NEW SHOW)
Thursday, May 18 — 8 p.m.
$35 in advance | $40 day of show
Sophie B. Hawkins is a trailblazing artist known for her poetic lyrics, captivating vocals and spellbinding live shows. Her platinum-selling debut album Tongues and Tails earned her a GRAMMY Award nomination for Best New Artist. The chart-topping ballad "As I Lay Me Down" shattered records as the longest-running hit single on the Billboard charts in American music history. To date, Hawkins' songs have been featured in TV shows including "Stranger Things," "Euphoria," "Ozark," "Beverly Hills 90210," "Dawson's Creek" and "The L Word." Presented in conjunction with Live Nation.
GRACE POTTER
Friday, May 19 — 8 p.m.
$49.50 in advance | $55 day of show
Rock powerhouse Grace Potter stands apart as an acclaimed singer-songwriter who fronted the popular band Grace Potter and The Nocturnals for more than a decade. As a soloist, Potter has collaborated with Kenny Chesney on the GRAMMY Award nominated, platinum-selling hit "You and Tequila" and released her album Daylight, which garnered two additional GRAMMY Award nominations. A seasoned performer known for her powerful voice and captivating live shows, Potter has shared the stage with legendary artists including The Rolling Stones, The Allman Brothers Band, Robert Plant, Willie Nelson, Neil Young and Mavis Staples. Presented in conjunction with Live Nation.
SUPER BLUE: KURT ELLING & CHARLIE HUNTER
Saturday, May 27 — 8 p.m.
$40 in advance | $45 day of show
Two-time GRAMMY Award-winner Kurt Elling will be joined by producer-guitarist Charlie Hunter for a special live performance of their jazz album Super Blue, which features a head-turning blend of high-energy funk, indelible beats and powerful lyrics. Called "the standout male vocalist of our time" by The New York Times, Elling is known for his rich baritone, four-octave range and compelling storytelling. Elling has recorded and toured with Branford Marsalis, Danilo Perez, Stefon Harris, Fred Hersch and James Morrison and performed extensively with larger ensembles like The Clayton/Hamilton Orchestra, The National Youth Orchestra, The Bob Mintzer Big Band, The BBC Concert Symphony, The Metropole Orchestra, The Irish Radio and Television Orchestra, The Scottish National Jazz Orchestra, and The WDR Orchestra and Big Band. Presented in conjunction with Live Nation.
ADAM EZRA GROUP (NEW SHOW)
Sunday, June 11 — 7 p.m.
$22 in advance | $27 day of show
The Adam Ezra Group is known for their bold, insightful songwriting and interactive, euphoric performances. This four-piece band fronted by Adam Ezra and bandmates Corinna Smith, Alex Martin and Poche Ponce fuses folk intimacy and rock energy with soul power and pop charm, resulting in award-winning songs like "Takin' Off" and "Let Your Hair Down." To date, the group has performed sold-out headline shows with Little Big Town, The Wallflowers, Gavin DeGraw, Tain and The Wailers and have provided direct support for numerous top artists, such as Alison Krauss, Daughtry, Dwight Yoakam, the Goo Goo Dolls, Jason Mraz, Jimmy Buffet and the Marshall Tucker Band.
EARLY JAMES (NEW SHOW)
Friday, June 16 — 8 p.m.
$22 in advance | $25 day of show
Alabama singer-songwriter Early James has an unmistakable voice defined by gravel tones and a haunting whisper. Influenced by James Taylor, Hank Williams and Johnny Cash, James sings contemplative folk songs, brooding ballads and lovestruck piano tunes about topics ranging from addiction and mental health to family relationships and the pains of early adulthood. James will play songs from his two albums, Singing For My Supper and Strange Time To Be Alive, which were produced by The Black Keys' Dan Auerbach. Presented in conjunction with Live Nation.
THE TALBOTT BROTHERS with LO MONACO (NEW SHOW)
Friday, July 7 — 8 p.m.
$20 in advance | $25 day of show
Born and raised in Nebraska, brothers Nick and Ty Talbott garnered national attention with their hit song "We Got Love." In 2019, Rolling Stone featured "Run No More" on their list of the 10 Best Country and Americana Songs to Hear Now, coining the duo's sound as "cinematic folk-rock for open highways, widescreen skies and the limitless reach of the American heartland." The Talbott Brothers will bring their acoustic show to the District Live stage and will be joined by acoustic/alternative pop singer-songwriter Lo Monaco. Presented in conjunction with Live Nation.
Tickets and additional information are available at plantriverside.com/district-live.
For a complete District Live schedule, please visit plantriverside.com/district-live or follow @districtlivesavannah on Instagram.
A Kessler Collection property, Plant Riverside District is an award-winning destination in Savannah, Ga. developed by visionary and hotelier Richard C. Kessler, the Chairman and CEO of Kessler Enterprise, Inc. Plant Riverside District originally opened in 2020 and attracts visitors from across the country and around the world.
---
ABOUT DISTRICT LIVE:
District Live, an exciting live music venue at Plant Riverside District in Savannah, Ga., marks a landmark partnership between The Kessler Collection and Live Nation, featuring national and regional artists live in concert at a state-of-the-art venue located in the new Atlantic Building at JW Marriott Savannah Plant Riverside District. Powered by Live Nation, District Live brings world-class artists to Savannah's Entertainment District. In addition to concerts, District Live also features That Great Gretsch Sound!, presented through a special partnership between the Fred and Dinah Gretsch School of Music at Georgia Southern University and The Kessler Collection. This permanent display of music memorabilia, highlighting 135 years of Gretsch instruments, is featured in District Live's lobby and performance space. For more information, please visit www.plantriverside.com and follow @districtlivesavannah on Instagram.
ABOUT PLANT RIVERSIDE DISTRICT:
Plant Riverside District, located at 400 W. River Street, is a vibrant entertainment destination and Savannah's Entertainment District. From incredible dining and high-end shopping to live music and spectacular performances, Plant Riverside District creates elegantly curated experiences, stripping away the unnecessary to reveal the exceptional. Once an iconic power plant in Georgia, Plant Riverside District now represents the beauty of progress. Whether seeking a romantic getaway or a work hard/play hard business trip, Plant Riverside District provides a setting suited to your needs, blending timeless sophistication with eye-catching details. Experience three unique buildings for a customized atmosphere to match your style: bold, contemporary maritime details in the Atlantic; romantic, elegant styling in the Three Muses; and chic historic architecture in the Power Plant. Complete your experience with numerous dining options, rooftop bars, a concert venue, art gallery, riverfront park and even natural science exhibits to spark your imagination. For more information, please visit plantriverside.com and follow @plantriversidedistrict on Facebook and Instagram.
ABOUT THE KESSLER COLLECTION:
The Kessler Collection's portfolio of passionately created and artistically inspired boutique hotels boasts chic design, luxurious accommodations, enriching ambiance and intuitive service. Whether visiting properties in Alabama, Colorado, Georgia, Florida, North Carolina or South Carolina, each hotel's exquisite art, music and cultural influences are deliberately approachable. Designed to inspire mystique and to encourage unforgettable experiences, Kessler guests are immersed in redefined Bohemian luxury, from an 1888 historic hotel and a cutting-edge downtown icon to a premier luxury lodge, high-design Southern mansion and elite ski lodge. The Kessler Collection was the founding member of the Marriott Autograph Collection, introduced with seven Autograph Collection branded hotels. Each property is a bold, original hotel carefully created with style and the individualist traveler in mind. For more information about The Kessler Collection, please visit kesslercollection.com or call 888.472.6312.
ABOUT LIVE NATION ENTERTAINMENT, INC.
Live Nation Entertainment, Inc. operates as an entertainment company and engages in producing, marketing and selling live concerts for artists via a global concert pipeline. It operates through the following segments: Concerts, Sponsorship & Advertising and Ticketing. The Concerts segment involves the promotion of live music events in owned or operated and in rented third-party venues. The Sponsorship and Advertising segment offers a sales force that creates and maintains relationships with sponsors through a combination of international, national and local opportunities that allow businesses to reach customers through concerts, venues, festivals and ticketing assets, including advertising on websites. Live Nation was founded on August 2, 2005 and is headquartered in Beverly Hills, Calif. For more information about Live Nation, please visit livenation.com.