South Magazine's 6th Annual Greatest Pets Contest
Do you think your pet is amazing? Find out how to nominate your furry companion in our Greatest Pets Contest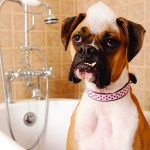 We all love our four-legged friends. From the well-behaved to the overly-spirited, the big to the small, the fluffy to the feathered and the cute to the "so-ugly-they're-cute-anyways," we look at our pets as unique individuals that serve as constant sources of companionship.
Well, it's that time of year that South magazine recognizes your furry friends in our 6th annual "Greatest Pets" competition.  Can your pet preform cool tricks? Does he have a lot of character? Is he just irresistibly adorable? Whatever the reason that you think your pet is great, we want to see it!
Some nominations are already up, but it's still not too late to submit a nomination of your furry family member. Also, don't forget to vote for who your favorite contestants by clicking on the pictures of the pets you like best.
The pets with the most votes on their photos will be crowned winners and will participate in a professional photo shoot with an award-winning photographer, be featured in the Style issue and gets a custom costume designed by Bella's Prissy Puppie Boutique.
Deadline for nominations and voting ends June 15th.
Take a look at some of our past winners!
Chanel, 2015 Winner
Chanel loves spending her time watching Beverly Hills Chihuahuas and riding on a golf cart with her dad. She's a true Southern belle who enjoys fried chicken and boiled peanuts.
Kiwi, 2013 Winner
Kiwi's worst habit is giving too many kisses. Her favorite treat is getting her nails painted.
Peewee, 2012 Winner
Peewee has been featured in Ranger Rick magazine and on ZooToo television. He has become the mascot of the firehouse on Oglethorpe Avenue and Abercorn Street.
Luca, 2011 Winner
Luca was voted "Best Dressed" in 2011. He is a people person and an enthusiastic squirrel chaser.