Rental Property Upgrades That Will Make Your Home a Standout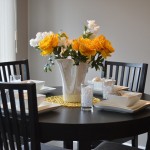 So many have jumped on the bandwagon of becoming a landlord, and for good reason. A sustainable market, easy monthly income, and the prevalence of shows on HGTV have made landlord-ing look like the perfect money maker, no matter what stage of life you're in. If you've made the leap to renting out a second property, perhaps you've been wondering how to attract the best tenants—and keep them. We laid out some upgrades that every Southern renter is looking for and with these in your arsenal, you're sure to see your rental profits soar.
New Appliances
Every tenant wants new (or newer) appliances. As the kitchen is the heart of the home, and a huge selling point for many tenants, it's important to at least ensure your kitchen appliances are up to par. That may mean a new gas stove, or replacing that somewhat dilapidated microwave that whirrs constantly. Getting matching stainless steel Energy Star appliances will not only entice searching renters, but also save you tons in energy bills down the line.
In-Unit Laundry
Who has time to go to the laundromat these days? Tenants have and will pay more for homes that have a washer and dryer on site. If you own an apartment complex, you might choose to install some coin-operated machines for a little bit of extra cash flow. However, if you're renting out a single home or condo, it's important to make the investment and offer a washer and dryer. This will allow you to charge higher rent rates and make you more competitive in the market, ensuring you get your pick of the tenant litter, so to speak.
Light Up the Space
Few things can make or break a space like the right lighting, and this upgrade doesn't necessarily have to break the bank. Installing new light fixtures in your rental can help prospective tenants see your space in an entirely new light—no pun intended. Make sure you utilize multiple levels of light to best showcase the home. That means floor lamps, wall sconces, overhead lighting, and table lamps if renting the home fully-furnished.
Minor Landscaping
Curb appeal is important, and if the yard in front of your property is less than appealing, you'll see tenants driving away before they even enter the home to see all of your interior improvements. Making even minor landscaping changes can do wonders for the value of your property, and may see you able to increase your rent rates when competition comes knocking. If you're not looking to get down and dirty in the soil, consider hiring a professional landscaping service like Soscapes.com that's skilled in Southern landscaping trends. The investment will be more than worth the gorgeous result, and you can bet prospective tenants will be clamoring to get their application in. Tenants are increasingly interested in outdoor living spaces, so doing up that back patio with a new awning or investing in some sturdy outdoor furniture might just be the enticing feature you need to capture the right tenant.
Picking Your Tenant
Keep in mind that funneling money into your property means taking your time to find the right fit to live in it. The last thing you want to do is spend a small fortune and end up with less-than-savory tenants who ruin your hard work, or in some of those nightmare cases we all hear about, trash the place and take off with items. This isn't meant to scare you, but it is important to use the right screening services to ensure your property is kept safe. Utilize a company like MySmartMove to get the low-down on all of the details you need to make an informed decision; from criminal history to credit score, you'll get it all and be able to make a solid choice.
Installing upgrades in your rental property is a surefire way to attract higher-paying tenants, and will do wonders in helping you keep the space filled. Consider the above listed options and choose the features that will best separate your property from the pack.