Gun Dogs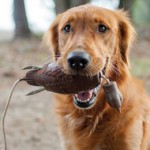 There are many reasons that outdoorsmen living in the South venture afield each fall in pursuit of a wide variety of upland bird and waterfowl species. But one part of the wingshooter's hunting experience that virtually every hunter will cite as a thrill is the sight of a well-trained gun dog in the field doing what he was bred and trained to do.
Labrador Retriever
Over the past few years, the Labrador retriever has been America's most popular breed of dog according to the American Kennel Club. Labs are well known for their intelligence, drive and retrieving ability.
Labrador retrievers are perhaps the most adaptable of all gun dogs. They are natural retrievers, but make excellent flushing dogs and in some instances can even be trained to point. They excel in the water and have an added coat layer to help insulate their skin in the winter. The breed is highly trainable, as Labs are known respond to whistle and hand commands at distances exceeding hundreds of yards.
Golden Retriever
This third most popular dog breed in America is the Golden Retriever. The breed was developed to retrieve downed wildfowl for the Scottish elite from both water and land in the 19th century. As pretty as the golden retriever is to the eyes, he was bred to be a hunting dog. His coat is long and feathered on the belly, legs and tail, but there is a dense undercoat that provides a cushion of protection from cold water and ice.
These dogs are excellent retrievers and are very intelligent. They are at home hunting and retrieving downed waterfowl as well as the larger species of upland birds like the pheasant. They are also great family pets that are at home in the water and in the field.
To see more gun dogs pick up the latest issue of South!
Story by Marty Fischer
Photography by Bows & Arrows